History of Leander Masters
Leander Masters started in 1991, initially with two lanes at Beechdale swimming alongside the main club. Following this success, it was rapidly followed by a dedicated Masters session on a Tuesday night at Victoria baths (in the little pool – 4 lanes, 20m and shallow!)
The membership rapidly grew to include Blaise Ford, Stuart Gordon, Colin and Maxine Robbins, Bill and Leslie Horton, Mike Brett, Phil Davis, Mark Shipston, Neil Williams and Pete Abell all of who are still members today. Bill undertook to provide the group with much needed coaching.
By 1993 a committee was formed:
| | |
| --- | --- |
| Chair | Blaise Ford |
| Secretary | Maxine Robbins |
| Competitions Secretary | Lesley Horton |
| Social Secretary | Carol Bamford |
| Recruitment Officer | Liam Doherty |
| Press / Publicity | Mike Brett |
| Committee Member | Bill Horton |

As can be seen from the structure there was a balance between competing, social activities and recruitment. The competition target for 1993 included the European Masters in Germany.
The Bangor and Scarborough masters became a regular fixtures, albeit mainly for the Saturday sessions, Sunday morning seems to be a swim too far for many following the Saturday social activities.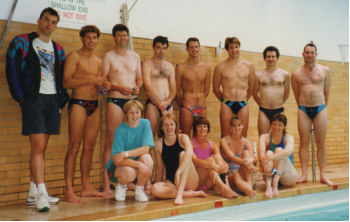 As well as weekly training, the group also went to Swansea for several training weekends. The smell of the gym sessions following the curry the night before is a lingering memory.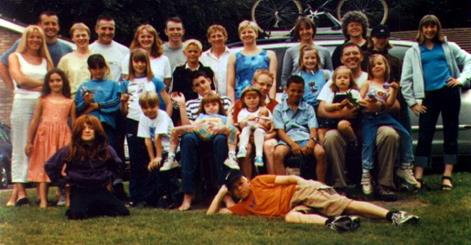 These weekends expanded to full week holidays by the later 1990's.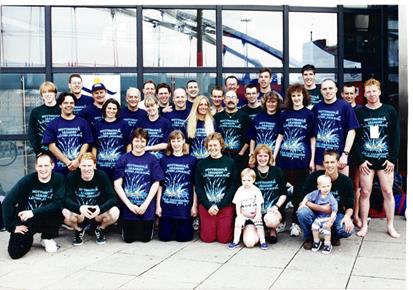 By 1996 the section had grown and a team of over 30 swimmers was taken to the World Masters in Sheffield. At this event, the Leander Masters relay team broke two Worlds records (Blaise Ford, Kevin Harrison, Mike Brett & Pete Abell). The team were nominated for the Nottingham Team of the Year award.
Bob Langham succeeded Bill as coach retiring around 2008.
2003 saw success with European Records in the mixed 160+ medley relay and British record in the freestyle relay. Mike Brett also achieved a British record in the 50m freestyle.
In 2005 – Leander broke another world record in a master's medley relay with our Leander's current chief coach Maggie Kelly, and another Olympian, June Croft.
As well as pool swimming, Leander Masters have a good history in open water and distance swimming. In 2007 seven members of the master section (Wayne Stott, Kate Redfern, Susan Gill, Maxine Robbins, Teresa Page, Tony Jones, Chris Sheppard) completed a cross channel relay swim. This was followed by a second relay in 2008 (Richard Burton, Jason Knight, Tim Roberts and Chris Sheppard), and Chris Sheppard's solo swim.
Many masters also regularly competed in the Colwick open water event. In 2008, Wayne Stott won his age group in the national 3K championship.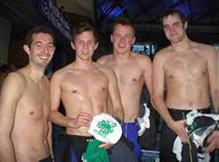 In 2008, a team of Alex Thurston, Jack Bates, Tom Willdridge, Matt Tutty break a British masters Medley Relay record beating City of Derby who had drafted in 2 current Olympians fresh from Beijing in their LZR suits!
Alex Thurston became the Masters coach in February 2010, starting at Noel Street baths.

In 2014, Nottingham Leander's Masters team of Iain MacMillan, Selena Burgess, Alex Thurston and Becky Milnes broke the world record twice for the 120+ 4x200m freestyle relay. This first record breaking swim was discounted due to a timing failure, so they repeated the swim a few weeks later.

2016 saw the European Masters coming to the London Olympic pool. Leander took 35 swimmers, collecting 7 Medals and 4 British Records.

In 2017 a small team headed for the World Championships in Budapest.