National Masters
29/10/2017
A coach-less team of Octopuses' went on the annual trip to the National Masters in Sheffield.
Despite the chaotic relay entry system, we got some 11 good relay teams out, several medaling:
GOLD

Men 4x100m Freestyle Relay. 200+. Mike, Colin, Dave, Matt.
Men 4x50m Freestyle Relay. 200+. Mike, Matt, Peter, Mick.

SILVER

Men 4x200m Freestyle Relay. 200+ Colin, Hase, Dave, Rob. (Winning team broke EU record)

BRONZE

Mixed 4x100m Medley Relay. 120+. Colin, Amy K, Carter, Andy S
The women's relays were thin on the ground, but the team
Women 4x100m Medley Relay. 72+. Sian, Amy L, Emma, Leona
finished in Bronze medal place, but we're sadly disqualified for a faulty takeover.
The relay conclusion has to be as a club, we have lots of fast 50ish swimmers; time for the next generation to step up!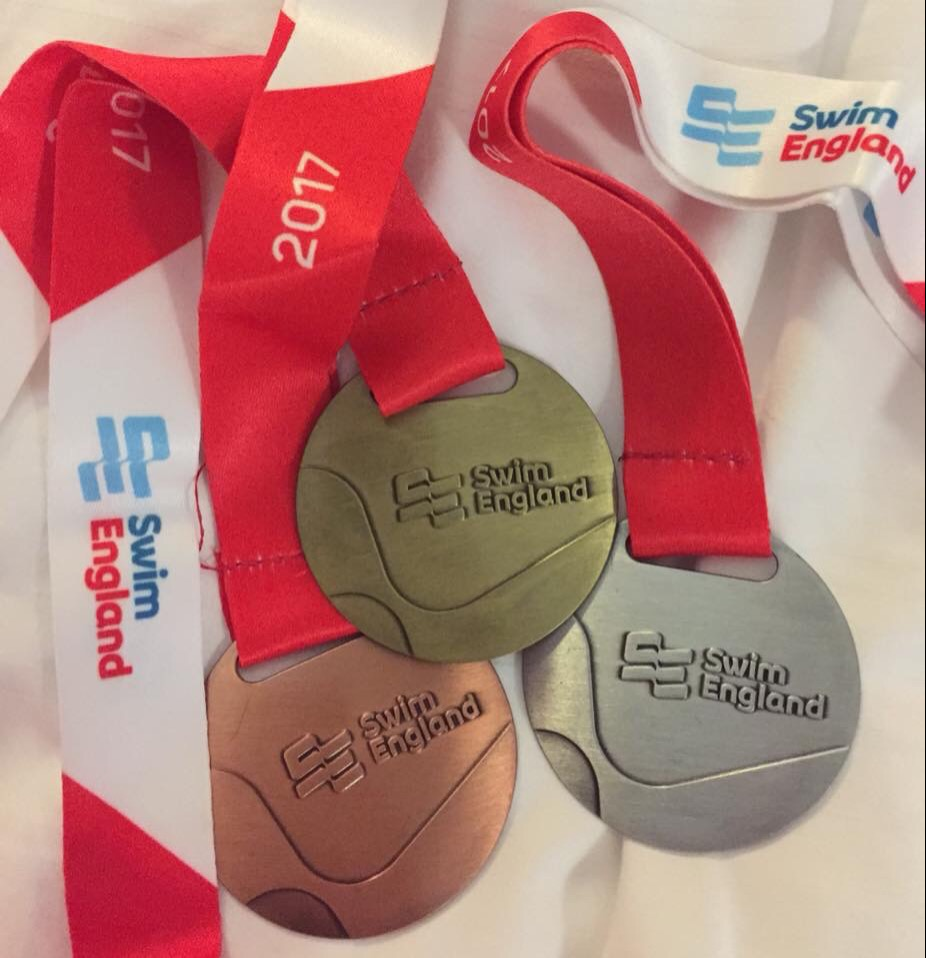 In the individuals, there were lots of PBs, seasons bests and swims in events you'd not normally expect someone to swim to gain Decathlon points. Individual Medalist:
GOLD

Bob Blane, 50 Breast.
Carl Shaw, 200 & 400 Free

SILVER

Carl Shaw, 200 Breast, 200 IM

BRONZE

Mick Commons, 50, 100 & 200 Free
Carl Shaw, 100 Breast
James Colvin, 200 IM.
Masters swimming is not all about medals, James upheld the team spirit swimming through injury (making sure we all knew about it). Matt and Kaye swam despite it being the wedding anniversary, treating themselves to a Pizza in the evening. Carl Shaw saved a relay by stepping in at the last minute to cover for absent friends. Kiyoko did her first 100 fly to make up a medley relay team (only to get a PB in the individual 50 fly a few moments later).
Swim of the meet? A close call between James' 2.35.71 in the 200 IM, Jonny's 52.93 for 100 Free and Bob's 42.01 for 50 Breast.
Swimmer of the meet? Carl Shaw, with 5 National Medals.
Learning points: we had a swimmer DQ for a faulty breaststroke turn. You really do need to re-enter the 400 Free or you won't be able to swim. For Swim England, you must add their ages of the 72+ relay to make sure you are in the right age group, despite it being mathematically impossible not to be.
Now to wait a week or so, to see how the Decathlon rankings are improved by the swims…
Team Leander:
Amy Louise, Amy Warren, Andrew McGurk, Andy Sheppard, Bob Blane, Colin Robbins, Dave Donegani, Emma Carter, James Colvin, Jonny Higham, Haseley Gordon, Karen Howells, Kaye Leach, Kiyoko Naish, Leona Hinds, Mark Shipston, Matt Leach, Mike Brett, Peter Abell, Mick Commons, Rob Steel, Sian Breen, Simon Tuckwell, Carl Shaw, Tom Shaw
BREAKING NEWS....
The following three relays were East Midlands Records...
Mens Open 400m Freestyle Team: 200-239
Michael BRETT / Colin ROBBINS / David DONEGANI / Matt LEACH
Mens/Womens Open 400m Medley Team: 200-239
Simon TUCKWELL / Robert STEEL / Kiyoko NAISH / Karen HOWELLS
Mens Open 800m Freestyle Team; 200-239
Colin ROBBINS / Haseley GORDON / Robert STEEL / David DONEGANI
Proving the comment above about a team of 50-something year olds.
---