British Masters Swansea
16 Jun 2019
Swimming is a sport of small margins!
The Leander 200+ relay team, knew they had a good chance of a British Record going into the 4x100 this weekend, as long as everyone was on form.
But we had a big scare when the Kent team did a very fast 4x200 early in the day. Planning our relay was now essential - we saw their race order, and realised they would go out fast. Matt, on the first leg had to hold on best he could, Dean should keep it level, then Colin should reel it back in on 3rd leg, leaving Mike the glory. We all knew what we had to do.
There was one flaw in the great plan. Spencer swim team. Where did they come from?
Matt did a great 1st leg, smashing a 59.42, taking 1.5 off his individual swim the day before, only just behind the Kent team, but hold on… Spencer are in the lead. Dean takes over, and does a fantastic 59.84 holding Kent as planned, but Spencer a 56.5 leg - are you sure? Colin went in and hauled in the Kent team - on plan, but Spencer were still 2 seconds ahead. Go Mike…
Mike's coaching instructions to us all was don't go too fast in the first length, to make sure you save something for the last length fast finish, cannot afford to die if racing.
Taking his own advice, Mike took it steady. Spencer were still 2 seconds ahead with 50 to go. What are you doing Mike? At least Kent were in the real view mirror. Then came Mike the racer, stoke by stoke gaining ground. It was going to be close, no, it was going down to the touch. Last stroke, the Spencer swimmer seemed to have it, but Mike's left arm came from nowhere to hit the wall 0.15 seconds ahead. So a 4 minute race, and we only led it for 0.15 seconds, but that was all that mattered.
Taking 6 seconds of the British record (2-3 better than our 'plan'), didn't seem to matter. The 0.15 did.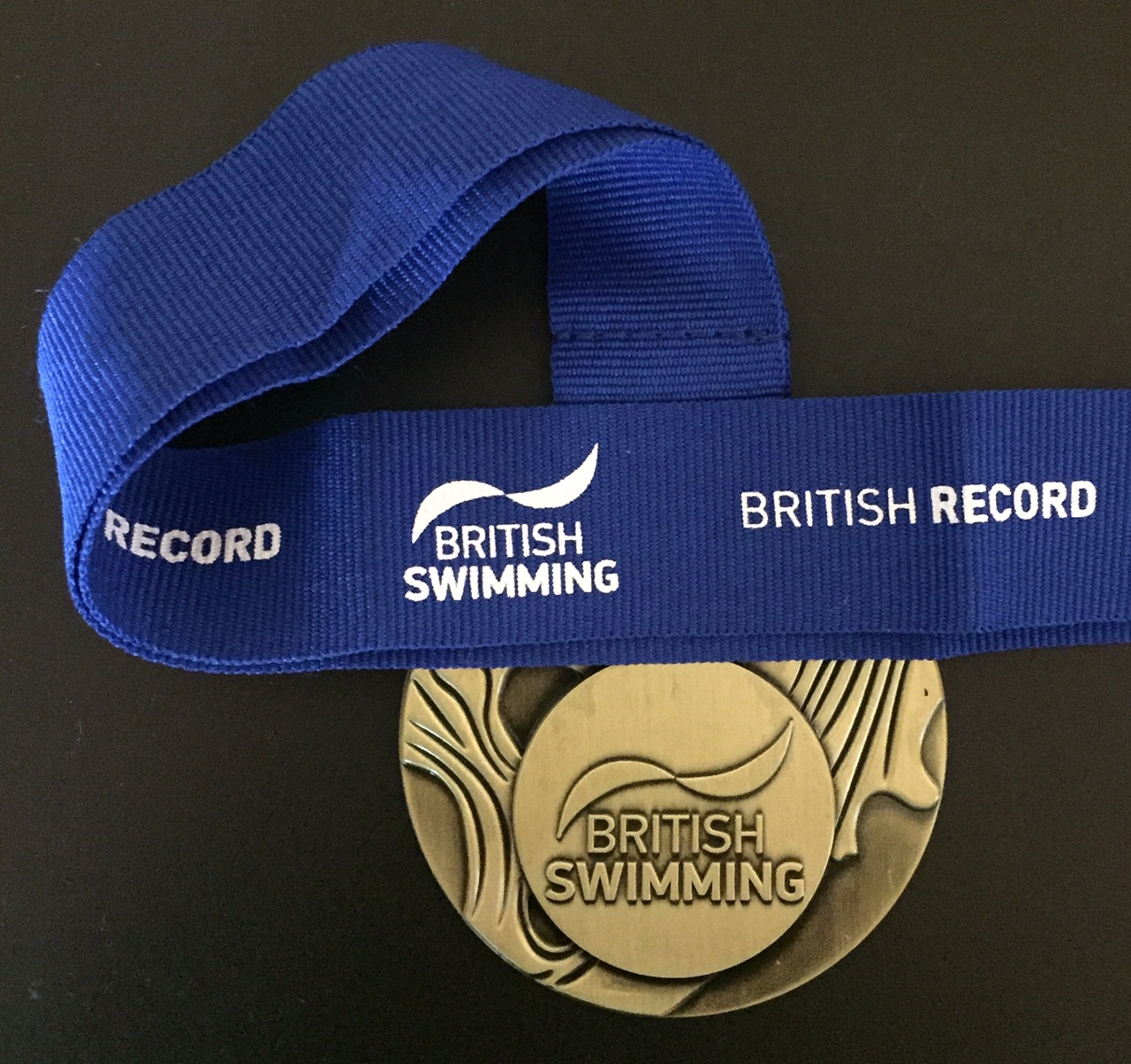 The really great thing about swimming, and masters was the reaction of Spencer and Kent. Both must have been bitterly disappointed, both must have had the records in their sights pre-race, but we were congratulated us on a great race, taking it in great spirit.
Following an interlude for some 200 IMs and 50 Fly, the Leander relay team regrouped to also win the 4x50 Medley relay, again beating Spencer, Kent and this time Warrender too. Records were not on the agenda this time, 2 seconds outside the record a Leander Team set in the European Masters in 2016.
Please forgive me the nervousness then excitement, and exhaustion (writing this after the 200 fly), that I failed to pay sufficient attention to the individual swims of the team members including the swims of Leona, Mark, Kaye and Adam to give a full and proper report. I do recall Leona did at least two LC PBs adding a lifetime PB in the last event of the meet, 50 breaststroke. Kaye was happy with her 50 free swim, and the 50 fly was her fastest swim since 2011. It was also good to see Adam making his debut at the masters nationals in the 400 free.
After Aberdeen, Plymouth and Swansea, next year the British Masters is in Sheffield so start planning your Long Course races, so we can get a big team of day-trippers!
Medal Tally.
Mike. 3 Gold (50 back, 4x100 free, 4x50 Medley), 2 Silver (50 free, 50 fly), Bronze (100 free)
Colin. 3 Gold (100 free, 4x100 free, 4x50 Medley), Silver (200 IM), Bronze (200 fly).
Dean. 2 Gold (4x100 free, 4x50 Medley), Bronze (200 IM).
Matt. 2 Gold (4x100 free, 4x50 Medley).
Team Leander
Colin Robbins, Matt Leach, Mike Brett, Dean Anscombe, Mark Wilson, Adam Rose, Kaye Leach, Leona Hinds.
---